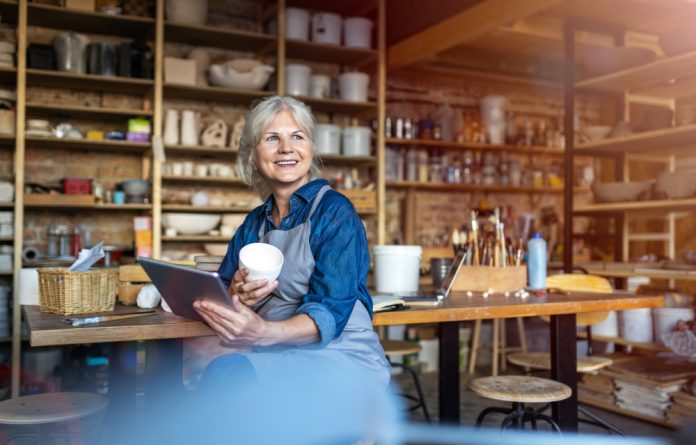 Crafty hobbies and creative skills are often undermined if you don't know how to properly share them with the potential audience. More and more entrepreneurs with a flair for creativity are now thinking of business ideas that involve craft and creative ideas. We have chosen the most in-demand skills that can help you your business flourish.
20 Business Ideas for the Crafty Entrepreneur
If you have the skills for these businesses and need the recommendation to start the business, then this article is for you. We will discuss the top 20 business ideas for the crafty entrepreneurs you can start today. Have a look:
1.
Glass Blowing
Glass blowing is a skill that involves shaping and molding molten glass by using a blowing pipe. The most popular products from glass blowing include paper weights, table-glasses, chandelier pieces, or art sculptures.
You don't have to use these techniques to make your products, as you can easily do it for other clients and keep your share of the business. The most successful companies, like Glassbaby, have Jeff Bezos as their investor.
2.
Woodworking
Woodworking mainly focuses on furniture making, carving, and carpentry. People love personalized upholsteries and designs in their interiors.
Woodworking is an ideal skill designed for this kind of audience. These people don't like mass-produced furniture and look for something unique to adorn their homes with.
Another variant of woodworking is wood turning, which involves lathing on wood with hand-held tools to shape it. You can also shape ordinary items like bowls, tools, and others into art pieces.
3.
Candle Making
Candle-making is one of the oldest artistic skills, dating back to 500 B.C. with the Romans. Other nations, like the Chinese, also introduced their versions of candle making.
However, the candle-making industry has transformed over the centuries and today, it is more in demand than ever. You will find various candles to choose from, including soy wax.
These candles are used in various festivals as well. Investing in this business can bring you better growth, market reputation, more customers, and more if you handle it properly.
4.
Jewelry
Jewelry is a profitable and always-running business. Over the years, we have moved from authentic jewelry to artificial ones, contributing to the industry's overall development. Today, people are more particular with the kind of jewelry they want and the designs they like.
You can also check existing designs in demand to get a better idea of what the market expects from jewelry manufacturers.
5.
Pottery and Ceramics
Pottery and ceramics are ancient creative skills originating from the Neolithic period. You can use clay and other ceramic materials to shape new objects, such as vases, pottery, earthware, and more. The versatility of these products makes them an ideal option for people on the creative side. The main types of potteries you can work with include:
     

Stoneware

     

Porcelain

     

Earthenware
With clay work and ceramics, you can diversify your products and cater to a larger audience in general. It makes pottery and ceramics the best option for companies that wish to continue introducing new designs and variations.
6.
Crocheting
Crocheting isn't just about bags, blankets, and hats, as you can do a lot more. For instance, have you considered giving the amigurumi a try? In 2006, it was the most popular product on Etsy, an online marketplace for sellers.
The craft originates from Japan and helps create some of the best final products. For instance, many companies are creating cute stuffed animals with crocheting skills. If you have the experience, you can create almost anything; the sky is the limit for creative people.
7.
Soap Making
Soaps became relatively unpopular when shower gels came in. However, the skill is now coming back as people are moving away from shower gel bottles due to plastic pollution concerns.
Today, there's a lot of potential in the soap-making industry, so professionals focus on different designs, colors, and scents to cater to consumer needs accordingly. You will also find soap manufacturing companies working with other groups, such as rehabilitation and local communities, to make their ventures more fruitful for the community.
8.
Knitting
Sweaters are the first things that come to our minds when we talk about knitting. However, there's a variety of other products that you can choose from online. These include wraps, beanies, and earrings, designed to make consumers look their best. 
We recommend planning out your products offered in advance so that you know what you will provide to the customers in the industry.  
9.
Hand Embroidery
Nothing says exclusive like hand embroidery items. It's a delicate and challenging skill that may have lost popularity years ago.
However, it is becoming more vital as professionals leverage social media handles to revive the skill. In mass industrial manufacture, a personalized hand embroidery gift always stands out.
10.
Decoupage
Do you have a skill for cutting and pasting? Then decoupage may be the best innovative idea for your upcoming business. Decoupage is a creative skill that involves cutting and pasting items to create interactive designs.
11.
Scrapbooking
Creating a professional scrapbook is an in-demand skill for people that want memories to last longer. You can add the best photos and captions to the scrapbooks, making it the ideal gift choice for buyers that want something unique.
12.
Leather Craftwork
Leather is a popular manufacturing item worldwide, and leather goods have been a part of our lives for centuries. There's a lot you can do in the leather craftwork industry, including:
     

Stamp

     

Pyrography

     

Perforate

     

Paint

     

Mold

     

Laser cut

     

Dye

     

Carve

     

and a lot more
With leather craftwork, you will cater to a larger audience and have more selling potential in the market. We recommend starting with bags, wallets, watch straps, etc., as they are most in demand.
13.
Macrame
Macrame is one of the most popular wall hangings and decorative plant hangers that first arrived in the 1970s. Within a decade, the macramé was no longer in fashion, but people are now inclined towards them again for a vintage look.
The skill helps create a bag, hammocks, jewelry, tablecloths, and more. There are various selling points for the macramé designs; for instance, you can use a biodegradable cotton cord and create your brand with an eco-friendly objective.
14.
Quilting
Quilting offers a variety of products, from padded jackets to bags, and designers will pay you thousands of dollars for it. There's a lot of variety, including hand quilting and machine quilting. So you don't have to worry about the creation.
15.
Paper Filigree
Paper filigrees have been around for centuries, as French and monks used them to decorate their religious books.
Today the technique uses strips of paper that are rolled, shaped, and glued together to create decorative designs. You can also create unique greeting cards, which makes it ideal.
16.
Beading
Beaded jewelry is highly in demand because it offers several designs, colors, and variations to make coasters, handbags, hats, outfits, and other products. With so much potential, the beading industry is one of the best places for business owners to start.
Like strings, you can also give bead embroidery, crochet, and knitting techniques a chance in your products. With some time, your business will be soaring high in no time.
17.
Weaving
Clothing and fabrics have boosted the demand for weaving in the wardrobe industry. Artisans that can still carry out this fantastic craft are no less than a treasure. You can design scarf, clothing, and rugs as they won't go out of style.
The best part is that the weaving skill is not limited to fabrics alone. You can create bags, baskets, and more with traditional weaving techniques.
18.
Floral Arrangement
The floral industry has become one of the largest, with a value of $4.80 billion. There's dedicated training provided for the floral arrangements, and it can allow you to bring the best of your creative skills.
19.
.Resin Casting
Epoxy resin and polyamine hardener products are now a work of art. There's a variety of products that you'll see created from resin casting, making the best option out there.
Resin casting is an ideal option if you are an entrepreneur focusing on the creative side. You can also sell the products online and make them worth minting money from.
20.
Illustrator
Illustrators have a variety of tasks they can do, including creating characters, depicting designs, and much more.
With enough skill, you can make thousands of dollars on average with the skill, making it the best option for entrepreneurs. We still recommend practicing your craft before you set up your business.
Bottom Line
Business in the craft world has become much more versatile and adjustable. There's a variety of options you can choose from, making business easier to earn from.
We recommend checking the crafting recommendations we have shared. With some practice, you can set up these businesses and have them ready in no time.
If you have more questions, we recommend partnering with the right teams, and you will become a big deal in the industry in no time.
---
The Atlanta Small Business Network, from start-up to success, we are your go-to resource for small business news, expert advice, information, and event coverage.
While you're here, don't forget to subscribe to our email newsletter for all the latest business news know-how from Atlanta Small Business Network.